TEMPO, Genelle General Store, Genelle Po
Establishment, finance, post office, food, gas station, liquor store, convenience store and locksmith at 502 12 Avenue, Genelle, BC V0G 1G0, Canada. Here you will find detailed information about TEMPO, Genelle General Store, Genelle Po: address, phone, fax, opening hours, customer reviews, photos, directions and more.
Opening hours
| | |
| --- | --- |
| Sunday | 08:00am — 06:00pm |
| Monday | 08:00am — 07:00pm |
| Tuesday | 08:00am — 07:00pm |
| Wednesday | 08:00am — 07:00pm |
| Thursday | 08:00am — 07:00pm |
| Friday | 08:00am — 07:00pm |
| Saturday | 08:00am — 07:00pm |
Photos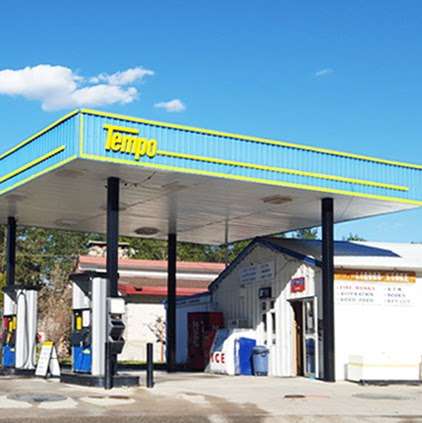 Reviews of TEMPO, Genelle General Store, Genelle Po
Carolyn Garthe Added 2019-04-23

★ ☆ ☆ ☆ ☆

A big rant, regarding the Genelle tempo gas station, that I was actually going to let go but actions have escalated to a petty level, and now I'm more angry.




On Monday March 4th my 17 daughter attempted to fill her tank at the tempo in Genelle.  She was the first customer at just after 8am.  She went inside (no pay at the pump) and paid for $100 of diesel with her debit card.  




She was unfamiliar with the type of gas pump, and continued trying to pump gas with little success for about 5 minutes. She started and stopped the trigger and finally went to ask for help, telling the young lady that she hadn't got any gas yet.




The lady looked at the pump and replied that she'd already pumped $60 worth as that was what the numbers were reading on the pump.  She told my daughter she had messed it up by starting and stopping the pump.  So the lady then reset the pump for $40 and my daughter was able to finally able to start pumping gas.




My daughter told her she didn't even get a half tank.  The lady told her she checked the surveillance camera, and no, she got her gas.  




My daughter being inexperienced, late for school, and too polite to argue, decided to leave but had also been texting me during this incident.  I assumed her tank would register as full or would deal with the situation later in the day.




The tank was less than half full, and unfortunately my daughter decided to fill up at her usual gas station in Trail after school spending just over $50 more on diesel.  She saved the receipt.




Her father and her went to the Tempo to discuss the situation.  The station is family owned so the the young lady in her 20's and her father who owns the station were there at this time. 




My daughter had said that the pump already was reading $60 when she drove up.  She didn't understand that the pump needed to be set to zero.  The owners of the station are adamant they set it to zero and for the $100 my daughter paid for.  The vehicle in question, a Jeep Liberty, only holds  about $100 of diesel at today's prices.  The owners showed the surveillance video of my daughter attempting to pump gas for 5 minutes. But you can't read the pump, or actually tell if gas is coming out.




So we paid $100, pump wasn't reset to zero, daughter attempted to pump gas, nothing happened.  Pump then reset to $40 (which we received).  We are out $60, and their word against ours. 




Young lady refuses to admit she reset the pump to zero and set it to $100.




I thought this matter might have been reconciled with the daily receipts.  Gas pumped=money taken in.  Not so. ??




And I was really willing to just be angry for a while, and make sure I never purchased anything there again ever, which is too bad, because I always filled up my vehicle, bought junk food and alcohol occasionally ect., but I also pick up our mail there.




Today I found that they'd "returned to sender" a parcel that I hadn't managed to pick up in a timely manner.  i understand its in their right to return it most likely in that time frame, but whenever we've been away in holiday before it had never been an issue.  Also, It was a very small package, not like it was taking up valuable storage space.  An essential oil bottle that was received on the 5 and shipped backed today after 10 business days.  This has never happened before, and I'm angry, inconvenienced, and out another $17 for shipping both ways.




So if I'm losing money Genelle Tempo, I hope this review influences a few people to think twice before spending their hard earned money at your business.
About facebook.com
Facebook — войдите или зарегистрируйтесь
Создайте аккаунт или войдите на Facebook. Общайтесь с друзьями, родственниками и другими людьми, которых вы знаете. Делитесь фото и видео, отправляйте...

Share this page
Additional actions
Today's weather in Genelle
01:00
10 ℃ 1010 hPa 79 % 1 m/s 04:00
9 ℃ 1013 hPa 78 % 1 m/s 07:00
6 ℃ 1015 hPa 84 % 2 m/s 10:00
11 ℃ 1015 hPa 62 % 1 m/s 13:00
15 ℃ 1014 hPa 41 % 2 m/s 16:00
20 ℃ 1014 hPa 32 % 1 m/s 19:00
18 ℃ 1014 hPa 35 % 1 m/s 22:00
12 ℃ 1015 hPa 55 % 1 m/s